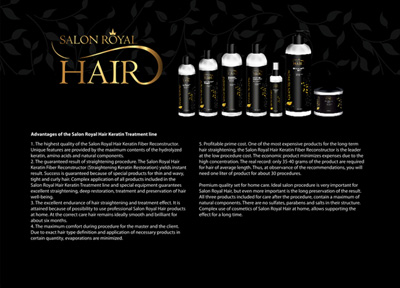 Ideal salon procedure is very important for Salon Royal Hair, but even more important is the long preservation of the result. All three products included for care after the procedure, contain a maximum of natural components. There are no sulfates, parabens and salts in their structure. Complex use of cosmetics of Salon Royal Hair at home, allows supporting the effect for a long time.
Products

Keratin Salt and Sulfate-free Shampoo
Careful and delicate hair cleaning is possibly, only if shampoo consists of natural components and doesn't contain some salts, sulfates and parabens.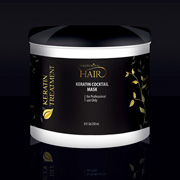 The mask "Keratin Cocktail" developed by Salon Royal Hair is a supereffective hair restorer. It is designed for restoration of internal structure of badly damaged or dyed hair. Mask components get into the cuticle and restore hair from inside. Finding micro-cracks and emptiness in the hair structure and filling them, they create protection against loss of moisture, destruction and keratin washing away, ideally humidify hair and restore their unique brilliancy.

Salon Royal Hair Keratin Cocktail Leave-In is an absolute hit, ideal tool of hair treatment and easy styling after washing! Features of the indelible balm and thermoprotection against external factors are kept and it effectively straightens unruly hair and gives them surprising shine as well.